JMSC POS & Inventory Tracking System
JMSC POS® system is built ground-up using innovative technology for creating ideal business systems for retail enterprises.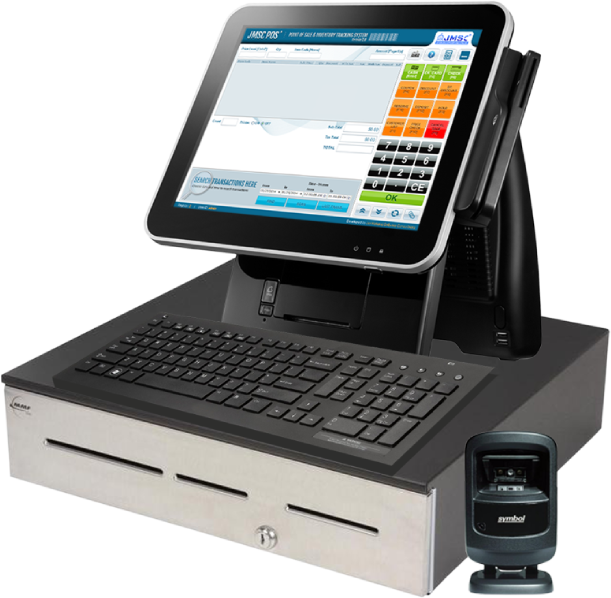 Change the way your point of sales terminal provides services to the customers of your store! With powerful retail technology at the core of our system, revolutionize the way your store functions! User-friendly touch screen displays now fully-integrated into the JMSC POS® System helps increase competitive edge, reduce inventory delays, improve sales, maximize productivity, and enhance the customers' experience across all retail and hospitality environments!
---
Customized By Retailers, For Retailers!
Since 30 years, we have been running Convenience & Liquor stores in the United States. Our experience in the retail business has lent us an upper hand in understanding the intricate nuances faced whilst running a retail store. We have personally faced and learnt from the challenges faced by retail business owners. With a unique understanding of user requirements, We have developed and designed our own Point Of Sale System and Inventory Management System with complete functionality based on actual needs of any retail business. Our firm belief stems from the fact that quality support is the key to success!
JMSC POS® system is built ground-up using innovative technology for creating ideal business systems for retail enterprises. By providing a powerful yet easy-to-use, cost-saving capability far beyond that you can expect from conventional cash register or generic point of sale systems and software applications. Our POS system is powered for capturing and utilizing sales information as well as develop strategies for spearheading you ahead of the competition. It increases efficiency and improves accuracy, lower operating costs and manages your inventory by reducing theft & losses, and zero stock situations.
JMSCPOS System can be used for Convenience Store, Liquors Store, Tobacco Store, Grocery Store and Retail Businesses. We provide POS System in entire USA including Illinois, Tennessee, New Jersey, Georgia, New York, Ohio, Pennsylvania, Massachusetts, Missouri, Nevada, North Carolina, South Carolina, Texas, Florida, Washington, Wisconsin.
Why Choose JMSC POS & Inventory Tracking system
Scan Data
Our one of the most praised features, which has been integrated with a view to make your investment earn for you with each passing day. With a lot of companies rolling out reward policies & schemes for their loyal retailers, the Scan Data function earns back for you with each sale you make.
The Scan Data function makes available part of your sales data, which is particularly only the sales figures for trend analyses and studying for companies such as Philip Morris, RJ Reynolds, etc. JMSC POS is certified with major companies for Scan Data. These companies provide motivational incentives for providing such sales trends data at regular intervals. Such data is asked for, to improve their production & delivery timelines to various regions as well as restructure any or all sales promotion-based activities for further driving up their sales. The benefits of these reports, which need to be sent regularly, is reflected in your bank accounts through our Buy Down function!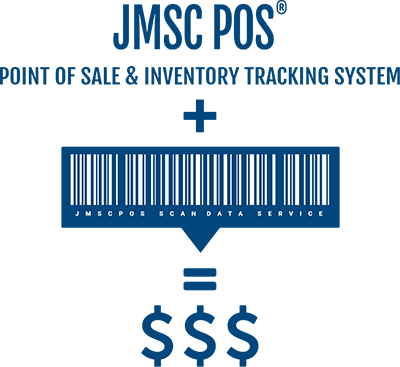 ---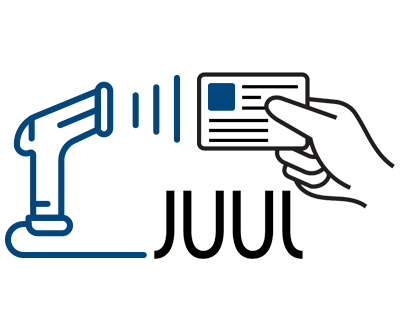 JUUL RACS Compliance
Retailers that sell JUUL products in the future will be required to have a POS system that is a RACS-compliant system. Great News!!! JMSC POS is JUUL RACS compliant system. So be assure there will be no issues with JUUL products.
JUUL Labs is partnering with retailers to support adoption of our Retail Access Control Standards (RACS) program, a solution to prevent under age access. These standards automate the transaction from beginning-to-end to ensure JUUL products are sold to verified legal-aged purchasers only. Whenever a transaction contains JUUL products, JMSC POS system will require I.D. scanning to verify age & I.D. validity; and limit the amount of product that can be purchased; and prevent manual override by the retail clerk.
RACS-certified retailers must use a RACS-compliant POS system like JMSC POS. JMSC POS has software features that detect JUUL products scanned during a transaction, and ensure transactions cannot be completed unless the above criteria are met.
Gift Card
Every store now needs to come up with something new on offer to retain its loyal customers, or better get newer customers to stay in business. Nothing beats the classic style of making a sale with bargains of customers' favorite products time and again! Yet today, gifting remains the most tried and tested way to please your friends, family, colleagues, or your special loved one!
Customers now face a more difficult scenario of gifting than before. Choices of type, color or size of products differs between people. That's why people now like to gift a coupon or rather a gift card such that the recipient may themselves go and get what they would like and keep it forever!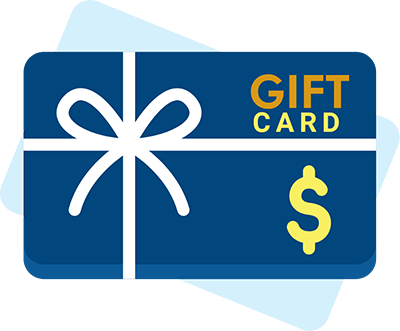 As a store owner, it is imperative that you need to provide such customers with gift cards for them to gift someone! However, Every store needs to have a tie up with another company which incurs transaction fee payable to such companies for them providing support for processing gift cards. This means your Customer would be charged or levied these extra charges as applied by other gift card supporting companies else you would be making a loss, wouldn't you!?
With our JMSC POS Terminal software, you can forget about creating, distributing, tracking and processing such gift cards anymore! All of this and much much more functions are already pre-built into our software! All you need to do is simply select how many gift cards need to be printed and our software will do the rest! That's It! Call us to know more details about such fantastic features built into our leading JMSC POS Terminal software NOW!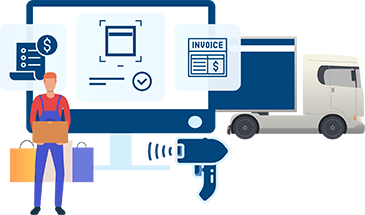 Automate Purchase Order
Entering a Purchase order has to be one of the most boring and non-productive tasks in a business. Agree? Well don't worry, we are here to save the day.
Over the years we have designed our POS system with a vision that it should automate as many non-productive tasks as possible. So a business owner can focus on key areas of his or her business and grow the business. Following that ritual, we present you our new Purchase Order Feature. Now, with this feature, you just have to upload EDI or Scanned copy of your purchase invoice into the JMSC POS software. And it will automatically generate purchase order. So the task that was taking couple of hours earlier, will now be completed in less than 5 minutes. Sounds Great, isn't it? We have many such features in JMSC POS to make your business easy. To know more about JMSC POS, Request a Demo today.
---
Features that makes stand apart from the rest:
Touch screen compatible, multi register support
Credit card processing
Cash drawer support, pole display, laser bar code scanner
Cashier security
Easy item maintenance
Monitor & control inventory with price levels
Split parent child items support multiple tax rates
Sales, inventory, tax, accounting reports
Item, customer mailing label printing
Item barcode generation and printing
Customer mailing label printing
Complete on screen help
Sophisticated, customize user security levels and control
Employee time card
Extensive and customized reports
Easy Backup – Hourly, Daily, Weekly, On-Demand
Customer Prices and Tax Setup
Standard discount and item wise discount settings, Coupons
Supplier management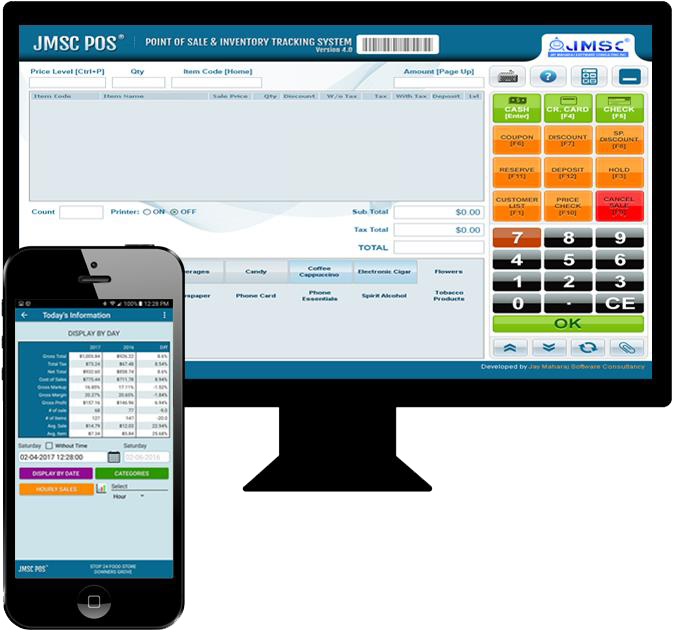 Generate automated and manual purchase order (if supplier supports the online order placing system then our system will allow to put the online purchase order)
Allow drops and payout for certain amount, display drop summary reports
Hold and recall transaction
Print receipt
Assign item reorder points
Customize display pole message
Receive shipments of purchase order
Automatic price lookup by location, stock quantity, tax
Merge multiple purchase order in to one purchase order
Perform post voids partial customer return
User defined reminder alert messages
Manage bank account (owner bank) with sales and purchase of inventory. And gives alert message if overdraft while issuing checks or payments
Customizable on screen shortcuts, Multiple Modes of Payment Cash/Check/Credit Card/EBT
Pocket pc access for purchase order generation, quick update inventory information. Hold transaction
Customer tracking, Adjust Customer Returns
Customize discount setting and organize for per item
Buy down for vendors organized with time and quantities; maintain Supplier Database, Item Discount Options Value/ Percentage
Driver license scanner to track weather customer is under age or not (for the sale of cigarettes or liquors or certain items)
Collect money order, money transfer or bill payment of any company and manage for customers
Notification via email for any canceled transaction by Employee
Email notification for opening of cash drawer in No Sale
NVR text insert
NVR Playback on your mobile and POS. (Only with compatible NVR)
Reports of daily sales through email
Gift card management (Generate/Sales/Redeem)
Loyalty program feature can be used to provide special benefit to regular customers
Remote Access
Suggested Ordering
Track Sales History
Wholesale Module
Price Tag Printing
Preloaded Database
Automated Backup (Replace 'Easy Backup')
Online Training and Help by Experts
How we will help you grow your business:
Maximize Productivity and Profitability
Provide Real-TimeData for Cash and Inventory Management
Speed-Up your Checkout which frees up the queue & provides more time to focus on growing business
Make Quick, Informed Decisions
Offer Superior Customer Services
Minimize Labor Costs
Reduce Inventory Costs and Out Of Stock Situations
Integrate Credit Card Processing
Increase Speed of Customer Service
Increase Accuracy of Orders
Use Video Surveillance to Prevent Theft
Control Prices, Purchasing and Inventory
View & Analyze Past, Current Data
Stay Prepared for Future Sales using the Built-In Trend Analysis & Stock Predication Calculator
Pull Detailed Sales and Inventory Information
Set Monitoring Policies and Procedures for Store
Improve Job Satisfaction Levels of Retail Sales Associates
Get Employees Trained Quickly And Easily
Easy-To-Use Interface
EDI – Electronic Data Interchange Support
We offer POS System and Support across all over USA. We are always here to serve you. Just give us a call and book your JMSC POS system today.